Cavetone Analog Recording Studio
Since 2005 we have been recording bands exclusively on tape and we are one of the last completely analog studios remaining. Nearly every Cavetone Record in our catalog was recorded and mixed here as well as many other releases from Midwest bands. As of 2013 we will only record for vinyl, cassette, and open reel releases.
Highlights of the studio include: properly calibrated 8 track, 4 track, and half track open reels (Otari, Tascam), tube mixer, dynamics processing (Lancaster Tube De-Peaker, LA-2A, 1176, Orban, Spectral Energy Processor), echo-y things (Echoplex EP-3, Lancavern, Guyatone, Orban), White passive EQs (6 channels), tube microphone pre-amps (Lancaster, modded EF-86 & 12AX7 Bogens, Altec Lansing), tube exciters, obscure tube amplifiers, one-trick pony vintage instruments (sitar, Rhodes, melodica, etc.), custom-built diffusers, a military locker of vintage mics, and an Italian-made espresso maker and grinder (without which, nothing would get done).
We have written a practical guide for preparing to record in an analog studio available for download in pdf here: Thee Cavetone Records Practical Guide for Entering the Analog Recording Studio.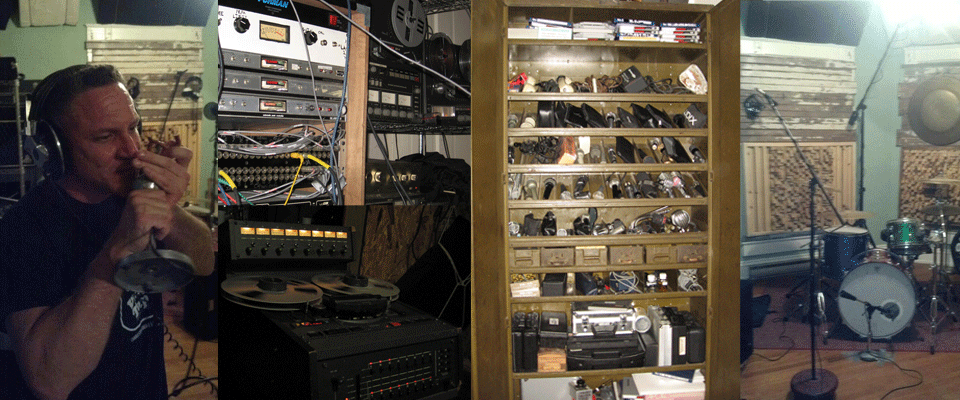 Pictured left to right: Tommy Rue tracking vocals through an EV crystal mic, part of our rack of equipment/tape decks, Otari 8 track,
military locker of microphones/recording tape, and tracking room with Malt Liquor's drums/the gong that will not die.