Pat Boone's Farm
Pat Boone's Farm was a band from 2006-2010. They formed after guitarist/singer Scott Walus met bass player/singer Keri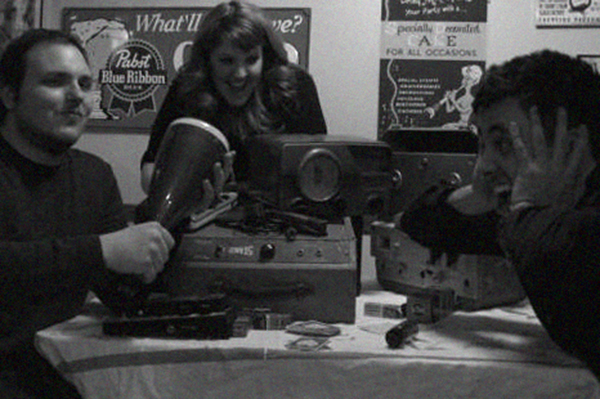 Cousins in Normal, IL and subsequently convinced a drummer at the university bowling alley (Sean Wagers, who he had never met before that moment) to start at pop band.
They started with the goal of learning Monkees covers (mainly the Nesemeth ones) and maybe writing a couple songs that could fit in on a "Nuggets" or "Pebbles" compilation.
The rules were simple. The guitars would be undistorted, the vocals would have hooks to remember, and the beats would be big to dance dance dance to. They played many random shows those first two years and released the first Cavetone Record "Garage * Dance * Loud" (CVT-101).
In 2008 Nate Furstenau took over drumming duties as Walus and Cousins moved to Columbia, MO. The three played more random shows at places as varied as roller derby bouts, an indoor pool, and the basement of a costume shop. They released a split 7 inch "1966" (CVT-106) that was dancy and slightlydelic, and contributed their theme song to the quad split "Monofesto Vol. 1" (CVT-104).
In 2010 Furstenau left for Thailand and the band parted ways. They saw the U.S. in a mini van, ate a lot of interesting food, and remain good friends to this day. For press, merchandise, and other inquiries please contact cavetonerecords@gmail.com
Pat Boone's Farm Logo
(Click for hi-res version)




Pat Boone's Farm
merch available here:
Selected Press for Pat Boone's Farm
"I picked up this EP at a Como Derby Dames benefit a while back (the band donated some copies for the cause) and had been waiting for a chance to get to this. This is four on the floor garage rock driven by electric 12 string guitar and a feel that calls to mind mid to late 60s garage punk. The four songs here are true rave-ups that reference girls, meat cows, records and the like. Short, direct, and to the point, PBF's music wears its roots proudly combining catchy as hell hooks with an in your face attitude needed to get this type of music across. If you enjoy vintage garage rock and garage punk, then you'll find a lot to like in a band such as Pat Boone's Farm and this 7" slab of marble gray vinyl that hopes to rock you and make you like it."
- The Trouble With Normal (Columbia, MO)

"I've long been a fan of monophonic recordings. It helps that I was around when they were still not uncommon. I've also gathered some of the great mono representations available in my time/era. I mean the Phil Spector Back To Mono box set, The Zombies Odyssey & Oracle, Pet Sounds, etc. It was an absolute treat to come across Cavetone Records who still use valve & tape technology to record, cut & press mono vinyl. I was so intrigued that I bought a few singles using PayPal & waited excitedly for their arrival from the U.S. I was delighted to receive, in a little more than a week, the "Garage Dance Loud" EP by Pat Boone's Farm, "Wham Bam" by the Wild Cat Daddies, and last, but by no means least, Cavetone Records' MONOFESTO Vol.1: an excellent label sampler. All in paper insert sleeves, monochrome jackets & protective bags. Sonically they are gorgeous heavy vinyl 45s that have the beat leaping out of their grooves. I'm a nut for garage rock at the best of times but garage with chiming MIJ 12 strings and seriously good song writing put me in one eared nirvana."
- Pygmy Beat (Australia)