Monte Carlos
Monte Carlos have been a Columbia, MO garage rock institution since their inception in 2004. The band combines a highly danceable mixture of blues boogie with the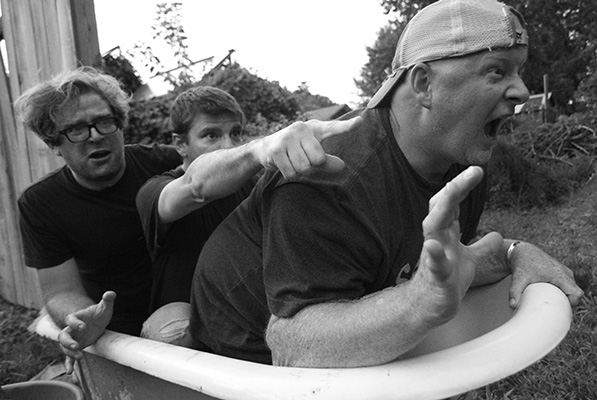 raved up enthusiasm of mid 60s American garage rock. They make a lovely noise while blasting out their well-crafted songs.
Currently the band consists of Lou Nevins on bass/lead vocals, Anthony Zager on guitar/backing vocals, and Charley Waddill on drums. Live, the three do not just play their instruments, they attack them and force them to make sounds not intended by the manufacturer.
The six songs that Monte Carlos have released on vinyl for Cavetone Records reveal different sides to the band. They revolve around a dirty and dancy style of garage pop but dabble in sounds like The Ramones on jet fuel to psychdelia that would make even the Vanilla Fudge jealous but generally centering around a dirty/dancy style of garage pop.
Their first 7 inch "Guilty of Moaning my Love" (CVT-102) has an A-side filled with all of the frustration and energy of adolescent sexuality manifested in a fuzzed out rhythm binge and the B-side has a tremolo-soaked ride through the desert.
Their second 7 inch release "I Think You Know What I Mean" features three variants on their mix of cheap rum and overactive libidos. The A-side combines Nevin's signature guttural mating cries with a Thin Lizzy-esque guitar attack. The B-side features a reverb-y surf instrumental and a catchy little rave up.
Monte Carlos are currently playing shows in support of these records. They have performed with artists such as The Eagles of Death Metal, Jay Reatard, Akron/Family, The Black Lips, The Dirtbombs, Jack Oblivion, The Electric Six, John Paul Keith, and The 1-4-5s. The band especially enjoy venues with liberal drink ticket policies and free-play pinball. For booking, press, merchandise, and other inquiries please contact cavetonerecords@gmail.com
Monte Carlos - "Bringing It All Back Home"
(Live at Thee Cavetone Records 6 Year Anniversary)



Monte Carlos
merch available here:
Selected Press for Monte Carlos
"Finally I get a chance to really check the latest from Monte Carlos out after what seems to be too long. On their latest 7" the trio tears things up with a piping hot batch of stripped down garage rock infused with a healthy dose of vintage hard rock swagger. "Guilty of Love" bounces with a hard as nails groove, a genetically infused bass line and a ton of hooks. "Keep It To Yourself" is a taut, tough rocker with just a touch of raw feedback mixed in to keep things moving forward.  "Moaning My Love" is a slow burning track where rawness and tension build throughout. Monte Carlos' music has always had a feel and attitude but here they seem to be taking it to the next logical step with more of a vintage vibe that shines through here in all its beautiful mono glory."
- The Trouble With Normal (Columbia, MO)


"Not a guy named Monte Carlos, or two guys named Monte and Carlos, but three guys who play overclocked gonad-punk tunes with titles like "Horny" and "Vampire." Snarling guitar leads and huge choruses might give them a more "contemporary" sound than many of their [garage rock peers] but in the best possible way, á la the Mooney Suzuki."
- Riverfront Times (St. Louis, MO)


"Monte Carlos, a bluesy garage rock act driven by great solos and good vocal hooks, has been around since 2004. That might not sound very impressive, but in a music scene as restless as Columbia, four years … [this] is no doubt an anomaly."
- Columbia Tribune (Columbia, MO)