Malt Liquor
Malt Liquor played trash rock to the bitter end despite its diminished couture. The Charleston, IL trio was raised on the nihilism of Johnny Thunders and preferred 40 ounces of blackout fizz to the latest craft ale to chase the shakes away.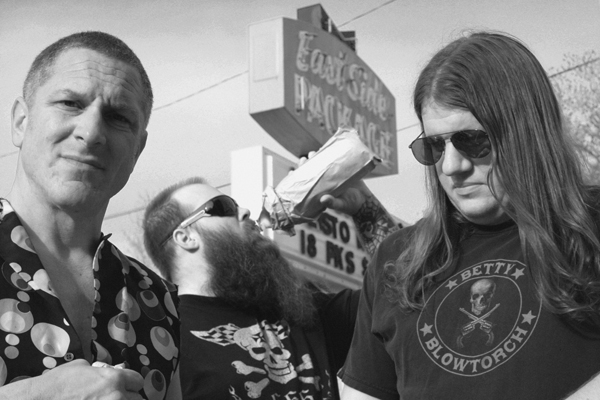 Founded in 2012, Malt Liquor was the final chapter of a trash rock trilogy between Tommy Rue and Jake Pope that included the notorious Swampass (Reptilian Records / Safety Pin Records) and the Porn Again Christians.
The band could only communicate through the bashing and crashing of Pope and the speaker-wrecking kerrang/node-shredding vocals of Rue, with Cliff Collier rounding out the trio with thudding bearded-ness.
From 2012-2013, these sonic ingredients resulted in a savage form of danceable blues boogie and garage punk comparable to a vicious Jello Biafra fronting early AC/DC. In their short time of touring, they amassed an impassioned following.
In October 2013, Malt Liquor released a 7" record on Cavetone Records entitled "Gargle Boogie." The bashing/thudding/kerranging of the track challenged the limits of magnetic tape for a sleazy three minute look into the obligations of infidelity. "Another loveless marriage, another bar room fling" guitarist Tommy Rue bleats out. Of course keeping in form, the song sports a sleazy garage punk boogie beat and excessive guitar. This single is Malt Liquor's only studio recording and is destined for a trash rock Nuggets compilation three decades from now.
For press, merchandise, and other inquiries please contact cavetonerecords@gmail.com
Malt Liquor official promotional video



Malt Liquor
merch available here:
Selected Press for Malt Liquor
"Tommy Rue… now fronts the slightly more refined power trio Malt Liquor. He switches from one rickety landline phone to another at the analog Charleston recording studio/label Cavetone, where he and drummer Jake Pope are approving the final mix of "Gargle Boogie" off Malt Liquor's split mono 7-inch…(and) grabs one of the phones and plays "Gargle Boogie" for me off the master reel. It's a world premiere. I hear the origins of rock 'n' roll on some lost EIU weekend. We're going too fast, but I can see the city's drive-thru liquor store, the campus trash-pickers, and the always-laughing waitress."
- Illinois Entertainer (Chicago, IL)

"Back in the early 2000s Charleston Illinois' greatest rock 'n' roll export of all time, Swampass, made their Youngstown debut at Nyabinghi opening for Betty Blowtorch. They were loud. They were crass. They were in drag. After a decent run of touring and a full length release "No Means Go" on Reptilian Records, the band mysteriously vanished into one of the seemingly endless hazy nights of boozing, drugging, and debauchery. More than a decade on, two thirds of the group are back to stake their claim as kings of Midwest sleaze as Malt Liquor."
- The Youngstown Pulse (Youngstown, OH)

Murphy's Law show at Reggies: "Malt Liquor was second on the bill. They were more of a gritty rock band. This trio played some loud and fast rock that was a bit reminiscent of some 90′s underground rock bands… They had a big sound for being only three people. A soundtrack for drinking if there ever was one."
-The Punk Vault (Chicago, IL)

Malt Liquor Logo
(click for hi-res)


Stage Plot
(click for expanded view)