Bowling Alone
Bowling Alone is post-rock space fusion from the ambitiously lo-fi mind of Connor D. Wilcox. Enacted through drum machines and layers of full frequency bass, each song hazily sketches out an instrumental and hypnotic moment.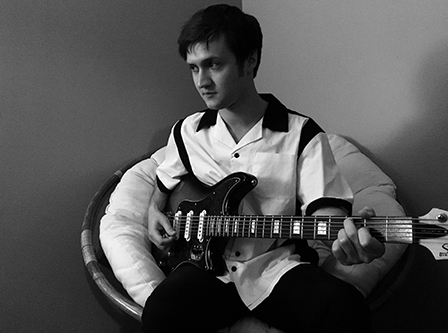 Bowling Alone traces its lineage through the first one-man band movement of 1980s, the pre-grunge alternative movement , and the latest incarnations of cassette culture. The result draws influence from and comparisons to El Ten Eleven, Tristeza, Maserati, and This Will Destroy You.
Wilcox uses the hypnotic quality of drum machines and the dynamism of full frequency bass to construct a provocative, yet anomic soundscape. Every string and fret of four and six string basses see use on his introspective compositions, more suited for academic journal reading by candlelight than for gazing at a shoe.
Cavetone Records released the "Long Distance" seven inch in 2017. It burns with an understated intensity and a pensive introspection that the math club kids would appreciate. Layered with care, it is the soundtrack of optimistic space exploration.
Bowling Alone sporadically performs live at various venues with a shared atmosphere. Questions about press, rights, booking and merchandise can be directed to cavetonerecords@gmail.com.
Bowling Alone
kaleidoscope promotional film




Bowling Alone
vinyl available here:

Selected Press for Bowling Alone
"Bowling Alone's self-titled 7-inch lathe cut record is an imperfect, lo-fi artifact – a limited edition piece of post-rock only available on vinyl... There's an undeniable mesmerizing quality to Bowling Alone's Sound. On each song, layers upon layers of spaced-out bass guitar spiral onto one another to create cerebral melodies. "
- Sound of Now (U.K.)

"Best described as lo-fi post-rock, the music of Bowling Alone always assembles to a hypnotic whole... As the square record spins on the turntable, layers of swirling bass guitar riffs materialize out of the ambient vinyl noise. On 'Long Distance,' Bowling Alone builds bursts of spacy, delay-heavy sound on a driving bassline and shuffling drums. The haunting and hazy b-side 'Chapel' provides the perfect counter to the sparky, spacy sounds."
- The Bandcamp Diaries

Bowling Alone Logo
(click for hi-res)


Stage Plot
(click for expanded view)