The Ex-Bombers
About: The Ex-Bombers are a sinister psychedelic blues duo who play suspiciously resonant songs harnessing the thunder of electric 8-string bass and drums, a pair of wrecking ball voices, and a delightful kaleidoscope perspective of a world on fire. Since 2010 they have been amassing a cult following through their scintillating live shows and five electrifying vinyl releases on Cavetone Records.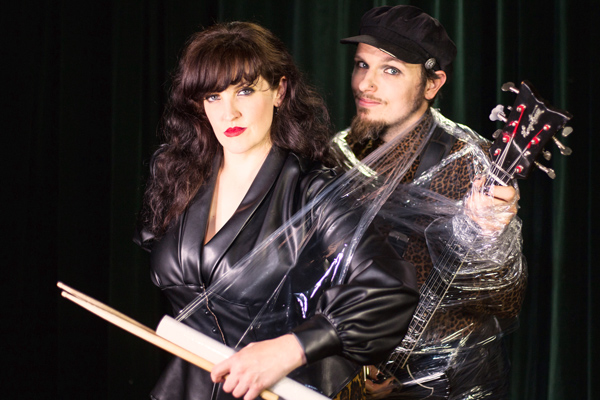 Thee Story: "Can you hear my heart beat? Whisper in my ear." Each breath brings with it a shared collective consciousness until, hesitation... it skips a beat. Electricity charges the moment with its velvet touch and The Ex-Bombers begin the sonic ritual with an electric 8 string bass, a small drum set, and a unique blues-meets-garage-meets-jazz dual vocal attack. Their songs are both timely and timeless.
A sinister extension of the late 60s sound, the pair would have been the house band for the leather club across from the Fillmore West. Think Grace Slick and Lou Reed took over The Doors, add the verve of first-wave garage psych (ex: Music Machine, Chocolate Watchband, Shadows of Knight), and stir in some of the most clever songwriting ever committed to wax. Primal pop hooks, unforgettable frenetic performances, and the type of honesty that only a funhouse mirror can provide.
The Ex-Bombers have been a cult band in the making since their debut in a "venue" called the Snake Pit (a townhouse garage) back in 2010 where the decidedly non-punk pair dressed in all black ripped out a set of scintillating originals, perverted versions of covers, and let a pre-recorded VHS tape take the place of banter between songs. Everyone became lost in a shared moment. Curious looks turned to dedicated followers.

Since that show, M. Keri Cousins (drums) and S.M. Nancy Walus (bass) have played anywhere with a power outlet on some of the biggest and the smallest stages at clubs, bars, breweries, art spaces, and even three weddings (Catholic, Pagan, and non-denominational for those keeping track).
Along the way, they put out five vinyl releases on Cavetone Records that have been met with adulation and intrigue. The releases include multiple long players ("The Tightwire" [2012] / "Five Star Night" [2015] / "New Love Is Easy" [2021]) and 7" releases (Anti-single [2013] / Original Halloween tune [2018]) all recorded completely analog in the spirit of 1967 complete with the crazy concept of playing the songs live / together in a singular take. Known for the production of their albums, the pair have also been the invisible hands that have produced countless other bands' records.
The Ex-Bombers continue to dedicate themselves to the craft of being musicians, chasing sounds, and writing songs that describe a kaleidoscope existence that is anything but vanilla.
For all booking, press, rights, merchandise, and general correspondence, please contact cavetonerecords@gmail.com
The Ex-Bombers "New Love Is Easy" LP
Sound Sampler in 77 Seconds


The Ex-Bombers merch available here:

Selected Press for The Ex-Bombers
The Ex-Bombers have been featured and reviewed in dozens of publications from around the U.S. and beyond. These articles describe the band as having a "sultry pop sound [where] deep, dark bass lines and straightforward, no-nonsense beats under moody vocals come together in a nearly narcotic composition" (Vox Magazine/ Columbia, MO) comparable to "the Velvet Underground or Sonic Youth" (Dayton City Paper).
The duo uses "seedy jazz basslines, noisy punk spirit and winking lyrics" (Shepherd Express/Milwaukee, WI) to create "grooves [that] are unmistakably catchy... sultry and mysterious, like a femme fatale" (Coles County Rocks).
They are a "seedy pair [who can] deliver a scuzzy number" (Punk News/ U.K.) "like something out of a Tarantino flick" (Youngstown Pulse & Sleazegrinder) or "a Bond film" (Quad City Times) whose "very infectious songs" (Grunnen Rocks / Netherlands) create "an intoxicating mix you can dance, nod off, or make out to" (Screen of Distance/ Columbus, OH).
The press has noted the uniqueness of the pair. "The music itself is something that can only be defined as beatnik punk. Its cool grooves and film noir atmosphere compliment the paranoia and jadedness of the lyrics, creating something unique yet familiar" (Eleven Magazine). "It all works, and it doesn't take long to notice that there is something very unique going on here" (Rows of Teeth / Chicago, IL).


Promotional Material for The Ex-Bombers
Album art, logo, stage plot, and stock poster


(Click each for hi-res version)
Album cover from
"New Love Is Easy" LP (2021)
Album cover from
"Five Star Night" LP (2015)
Album cover from
"The Tightwire" LP (2012)

The Ex-Bombers logo

Stage plot / Live sound
technical information
Stock poster for live performances.
Click here for the 300 DPI .pdf