The Ex-Bombers
The Ex-Bombers are a femme fatale with a film noir beat who mix sultry rhythms with narcotic melodies.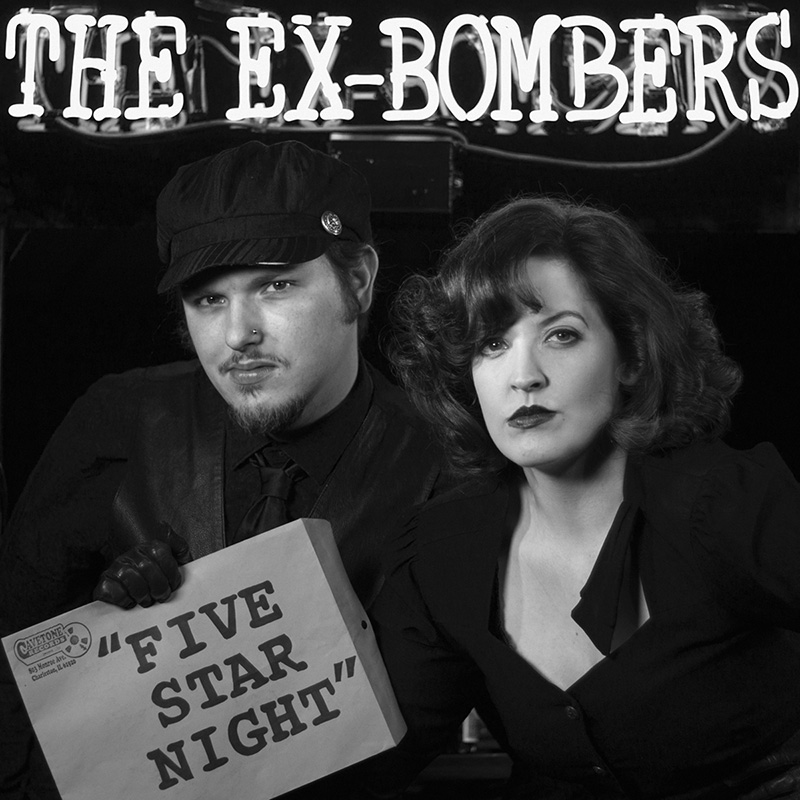 Since 2010, the Charleston, IL duo have made a seedy and avant form of pop fit for scoring spy films and neon nights.

Critics have dubbed their music as "jazz for dirtbags" or "punk for beatniks." Both descriptors hint at the maximum minimalism found on their two full-length LPs as well as the raw cabaret element they bring to live performances.

Keri Cousins provides the sultry rhythms on a tom-less drumset as Scott Walus plays the narcotic melodies on a weathered Hagstrom 8-string bass (EADG octaves). They combine their distinct voices to weave together dark and catchy songs in the vein of the flippant sounds of early Velvet Underground/Sonic Youth with the style of Soft Cell/Girls Against Boys.

Their discography exists only on vinyl without a digital counterpart. Their 2012 debut LP "The Tightwire" began the story of the subterfuge in the city. In 2013 and 2018, they released their infamous anti-single "Kissing Hands, Shaking Babies" and Halloween quad split on seven inch vinyl to much intrigue.

In 2015, they released their second LP, "Five Star Night." This latest record exemplifies their approach to maximum minimalism through its hi-fi approach to lo-fi situations.

The Ex-Bombers are currently playing dates in support of their vinyl releases. During the daytime, they can be found practicing subterfuge at independent record stores, innovative coffee shops, and any other location that still values human interaction.
Contact cavetonerecords@gmail.com about appearances, interviews, rights, merchandise, and general correspondence.
Official Promotional Video
The Ex-Bombers "Five Star Night" LP


The Ex-Bombers merch available here:

Selected Press for The Ex-Bombers
The Ex-Bombers have been featured and reviewed in dozens of publications from around the U.S. and beyond. These articles describe the band as having a "sultry pop sound [where] deep, dark bass lines and straightforward, no-nonsense beats under moody vocals come together in a nearly narcotic composition" (Vox Magazine/ Columbia, MO) comparable to "the Velvet Underground or Sonic Youth" (Dayton City Paper).
The duo uses "seedy jazz basslines, noisy punk spirit and winking lyrics" (Shepherd Express/Milwaukee, WI) to create "grooves [that] are unmistakably catchy... sultry and mysterious, like a femme fatale" (Coles County Rocks).
They are a "seedy pair [who can] deliver a scuzzy number" (Punk News/ U.K.) "like something out of a Tarantino flick" (Youngstown Pulse & Sleazegrinder) or "a Bond film" (Quad City Times) whose "very infectious songs" (Grunnen Rocks / Netherlands) create "an intoxicating mix you can dance, nod off, or make out to" (Screen of Distance/ Columbus, OH).
The press has noted the uniqueness of the pair. "The music itself is something that can only be defined as beatnik punk. Its cool grooves and film noir atmosphere compliment the paranoia and jadedness of the lyrics, creating something unique yet familiar" (Eleven Magazine). "It all works, and it doesn't take long to notice that there is something very unique going on here" (Rows of Teeth / Chicago, IL).


Promotional Material for The Ex-Bombers
Promotional photo, album art, logo, stage plot, and stock poster


(Click each for hi-res version)
Promotional photo from
"Five Star Night" LP (2015)

Jacket from the 7" anti-single "Kissing Hands, Shaking Babies" (2013)

Album cover for "The Tightwire" LP (2012)

The Ex-Bombers logo

Stage plot / Live sound technical information

Stock poster for live performances. Click here for the 300 DPI .pdf